Color Finale™ Connect is the only solution designed for remote color grading collaboration in the Final Cut Pro X environment. Color Finale™ Connect lets you effortlessly and securely broadcast a color grading session over a network or the Internet to prototype grades to a client, the DP, director or producer in the making of a film or a video, invite a colorist who will set you up with a look remotely, or join a session to learn color grading by example.
Full Color Management. Your workflow stays accurate.
With Color Finale™ Connect, you can hire the services of a colorist who has Color Finale™ on their end, effectively outsourcing color grading to someone who has the right skills for the project and who might just as well be located next door as in a different country.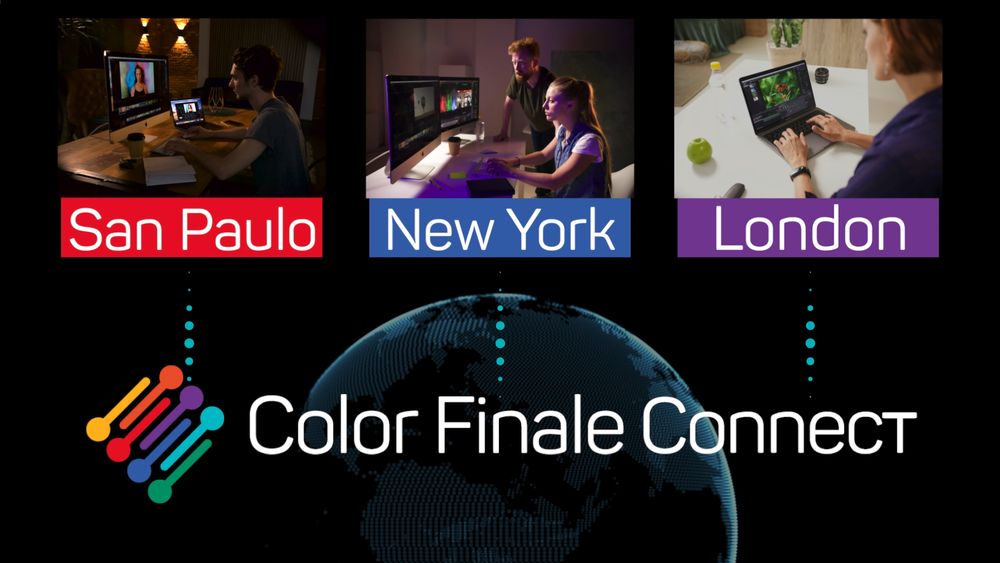 Keep your ideas flowing day or night. Time zone differences do not matter.
Using any one of macOS's built-in communications tools for chatting or talking to each other, you can exchange ideas or give/take instructions while viewing color edits, masks and tracking processes on your audience's Final Cut Pro X Timeline in real-time.
Color Finale™ Connect requires no configuration on either end. It uses tokens as connection ID while sessions are password-protected. Attendees drag the project files the session manager sends them across to their local Events browser and Timeline.
Network traffic is kept to an absolute minimum as Color Finale™ sends full-resolution single frames needed to display the grading changes only once, followed by adjustment metadata only. If your audience has the original footage on their local workstation, nothing else but adjustment metadata is sent over.
Collaboration is easy. Projects are safe.
Color Finale™ Connect uses a bidirectional channel that runs over the Color Trix server which initiates a peer-to-peer connection functioning as a switchboard. Nothing is ever stored on the server, guaranteeing the highest level of security and enabling the safeguarding of your project from unwanted distribution.
Secure from the ground up. Made for seamless collaboration.
By joining a Color Finale™ Connect session, you see what the session manager — e.g. a colorist you've hired to create the look for your project — is doing, while by broadcasting a session you take the lead.
As soon as you start changing things in Color Finale™, the clip in the Timeline will reflect those in near-real-time and the sliders will move accordingly. Color wheel and other UI elements are updated as soon as you finish the action by releasing a mouse button or confirming a command.
Color Finale™ Connect is the easiest and surefire way to collaborate on sizeable productions.